The company has provided the idea of a secure ecosystem for analyzing different types of data. Our goal is to make the data analysis process as simple and fast as possible. If you have a problem or question in the field of data analysis, with a brief description of the type of data you want to analyze, we will try to help you or answer your question as soon as possible. . By referring to the training section, you can get acquainted with the concepts of data science, types of data and methods of their analysis.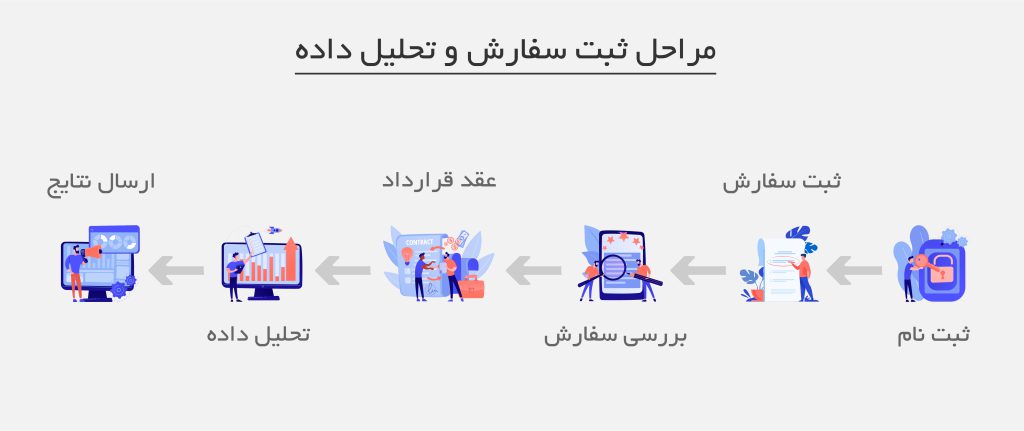 Register
Since each order is assigned a specific code, it is necessary to define a user ID for each user. Please enter your complete and correct information when registering to follow up quickly and easily.
Order
Once you have identified the idea company is a good source for analyzing your data, the data should be uploaded using the submission method described below. If your data has already been uploaded to a database, you can send us the data access address. In the first step of order registration, you must register the title, variables and grouping of your study. Simultaneously with this and to speed up the process, you can send us the following files when registering your order:
Metadata file

Metadata refers to descriptive information about the study, including the purpose of the study, the samples studied, the methods used, and the names of the raw and processed data.

Raw data file

Raw data is the data of observations and has not been analyzed.

Processed data file (if any)

Processed data is defined as data on which quality control and preprocessing steps have been performed. Therefore, if you have done any special manipulation or analysis on your data, send it to us and write a description for us in the description section.
Order check
After uploading the necessary files to start the analysis, your submitted files will be reviewed by our experts. Based on the information and documentation submitted by you, data evaluation will take at least one business day. Virtual meetings may be held to accurately evaluate your study and request.
Contract
After the submitted files are approved by our experts, a bilateral contract will be set and signed. The cost of analyzing the application is also agreed in the contract.
Analyze data and send results
Finally, after sending the receipt scan, the first deposit is concluded according to the contract and its approval by the financial expert, the data analysis process begins. Evaluation of files or any questions / requests will be followed up by sending an email.
Working Hours
8:30 a.m. to 4:30 p.m.
Analyze
Highest Quality In Shortest Time